"PUGLIESE CIACCIO" HOSPITAL IN CATANZARO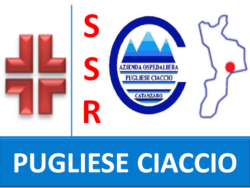 Donation: € 30.000
Date: 03-04-2020
Recipient:  "Pugliese Ciaccio" Hospital
Reason: Covid-19 emergency
Goal: Acquisition of intensive care devices
April 2nd, 2020
The Constantinian Order supports the hospital "Pugliese – Ciaccio" in Catanzaro
"Every single euro donated will be a glimmer of hope and a small drop of life to win this challenge" stated Prince H.R.H. Prince Charles of Bourbon Two Sicilies on the occasion of a 30.000 euro donation to Pugliese Ciaccio Hospital in Catanzaro due to the Covid-19 emergency.
The non-profit of the Sacred Military Constantinian Order of Saint George was begun with the goal of public assistance and social solidarity, particularly through charitable works and hospital aid. It decided to assist the most important hospital in Calabria's capital, following an analysis of the region's contagion map including the demographic rate of residents of the province. Charles of Bourbon Two Sicilies emphasized: "Wanting to be able to assist again in the future by supporting the needs of the healthcare workers, I hope that our contribution will help leave an overall improvement in the hospital's functions with regard to the needs of the people."
A message of thanks sent to the non-profit's organization stated: "The hospital's administration expresses sincere gratitude for the appreciated generous contribution and the sensitivity shown, this means so much to us in this difficult and extraordinary time involving hospitals committed to confronting and reducing the spread of the COVID-19 virus. These are gestures which enable us to keep going, and say 'we're going to make it through this.'"
"The considerable contribution made by Prince Charles of Bourbon Two Sicilies will be used by the hospital I direct for the acquisition of medical devices and equipment necessary to begin Intensive Care stations during this emergency phase" explained Dr. Maria Laura Guzzo, acting director of the hospital's anaesthesia-intensive care operational unit.